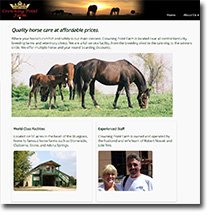 Internet Advertising Solutions (IAS) is a full service web site design, search engine optimization, consulting and promotion firm located in Lexington, Kentucky. Since 1995 IAS has been helping clients with web site design, web hosting, plus ongoing search engine optimization, search engine registration and internet consulting. IAS has worked with clients in nearly every U.S. state and six continents. Contact IAS today to get started!
Web Site Development
Choosing which web site design firm may be one of the most important business decisions you'll make. Internet Advertising Solutions has been developing quality web sites since 1995 for clients nationwide. Your web site will be designed around your needs, after carefully reviewing your company's site requirements. Each design concept utilizes proven techniques that will drive traffic to your web site.
PHP Scripting / MySQL Databases
The most powerful sites on the web use back-end programming to enhance their site, increase sales and to help their company save time and money. Find out how your web site's performance and interactivity can be greatly increased.
Web Directory
Arts
Movies, Television, Music...
Business
Jobs, Real Estate, Investing...
Computers
Internet, Software, Hardware...
Games
Video Games, RPGs, Gambling...
Health
Fitness, Medicine, Alternative...
Home
Family, Consumers, Cooking...
Kids and Teens
Arts, School Time, Teen Life...
News
Media, Newspapers, Weather...
Recreation
Travel, Food, Outdoors, Humor...
Reference
Maps, Education, Libraries...
Regional
US, Canada, UK, Europe...
Science
Biology, Psychology, Physics...
Shopping
Autos, Clothing, Gifts...
Society
People, Religion, Issues...
Sports
Baseball, Soccer, Basketball...